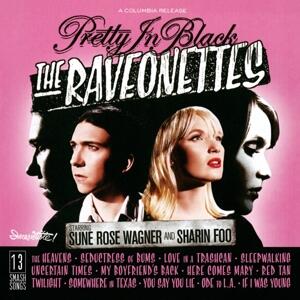 RAVEONETTES - PRETTY IN BLACK (Vinyl)
190,00 kr.
133,00 kr.
180gr./4p Insert/15th Ann./1500 Cps Transparent Vinyl
1-LP Holland 2005
Rock
Coloured Vinyl, High Quality, Insert, Anniversary Edition
The second full-length album of Danish Fifties/Psych Pop duo The Raveonettes was released in 2005. On Pretty In Black, Sune Rose Wagner and Sharin Foo abandoned the strict recording rules the band laid upon themselves on their preceding efforts. Instead, the group further expand on their signature sound of Fifties inspired Rockabilly Noise Pop with the eerie feel of a thriller movie soundtrack. Special appearances on this album are made by Maureen Tucker of Velvet Underground on drums, Martin Rev on drum machine and Ronnie Spector, also known as Veronica Bennett of the fabulous Ronettes on backup vocals.
Available as a limited 15th anniversary edition of 1500 individually numbered copies on crystal clear (transparent) vinyl. The package includes a 4-page insert.
Tracks:
1. The Heavens

2. Seductress of Bums

3. Love In a Trashcan

4. Sleepwalking

5. Uncertain Times

6. My Boyfriend's Back

7. Here Comes Mary

8. Red Tan

9. Twilight

10. Somewhere In Texas

11. You Say You Lie

12. Ode To L.A.

13. If I Was Young
Varen kan desværre ikke købes, da der ikke er flere på lager