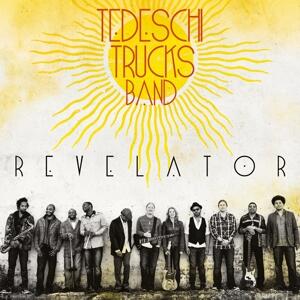 TEDESCHI TRUCKS BAND - REVELATOR (Vinyl)
268,00 kr.
187,60 kr.
180gr./Gatefold/Insert/Grammy
only 1500 numbered copies On Flaming Vinyl
2-LP Holland 2011/2020
Popular
Coloured Vinyl, High Quality, Gatefold Sleeve, Insert
Revelator is the debut studio album from the 11-piece Tedeschi-Trucks Band. What Susan Tedeschi and Derek Trucks have recorded proves something beyond their well-founded reputation as a live unit: that they can write, preform and produce great songs. Revelator is a roots record that sets a modern standard even as it draws its inspiration from the past. It's got everything a listener could want: grit, groove, raw, spiritual emotion, and expert-level musical truth. The album won a Grammy Award for Best Blues Album at the 54th Grammy Awards.
Available as a limited Edition of 1500 individually numbered copies on flaming coloured vinyl. The package includes an insert with pictures and lyrics.
Tracks:
- 1 -

1. Come See About Me

2. Don't Let Me Slide

3. Midnight In Harlem

4. Bound For Glory

5. Simple Things

6. Until You Remember

- 2 -

1. Ball and Chain

2. These Walls

3. Learn How To Love

4. Shrimp and Grits Interlude

5. Love Has Something Else To Say

6. Shelter
Varen kan desværre ikke købes, da der ikke er flere på lager